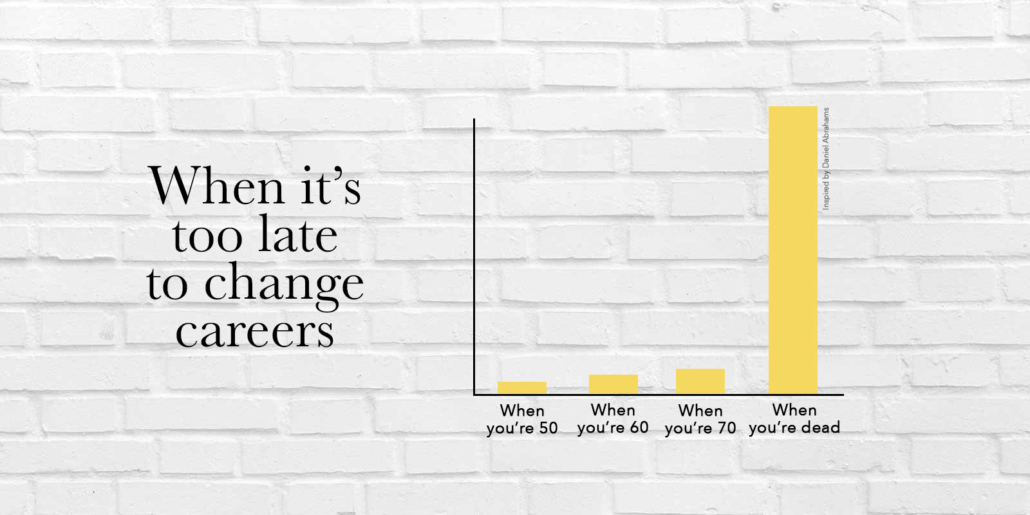 Alexandra Humbel
When one of my beloved clients shared this graph with me, I had to laugh. Then I kept thinking about it. Is there an age limit for changing careers? According to the standard, this limit is around the corner. From the moment any high performing professional subtly slips, without knowing it, from high potential to senior, options are shrinking at a dizzying pace.
You can't do anything about the corporate culture. But you are in the driver's seat to challenge the limits you impose on yourself.
For instance, here are some of the most common and fearsome beliefs:
Is it worth it?
How much effort does it take to start a new professional adventure, when everything pushes you to hold on to your position, in the hope that you won't be pushed out prematurely?
If you start a new career now, how long will you be active?
If it doesn't work out, will you regret your decision?
What will your entourage think?
Are you a fool to even consider it?
What does it mean financially?
All these questions are valid. All of them need to be explored with courage and integrity.
I will add another set of questions:
1. What are you craving? What makes you tick?
2. What life do you want?
3. Are you prepared to say "no" to some benefits, so you can say "yes" to new stuff?
4. What is the best-case scenario?
5. Who will you be, if everything unfolds beautifully?
6. What will your everyday life look like?
7. How will you feel?
8. On the contrary, what is the worst-case scenario?
9. What are the consequences?
10. And eventually, what is the price of letting life decide for you by default?
Have you been thinking about changing careers?
I would love to have a chat to see if we are a good fit.
Click here to book a call with me at a time that suits you: https://alexandrahumbel.com/discovery/
https://alexandrahumbel.com/wp-content/uploads/2022/06/too-late-for-career-change-alexandra-humbel.jpg
800
1600
Alexandra Humbel
https://alexandrahumbel.com/wp-content/uploads/2021/04/alexandra-humbel-logo.png
Alexandra Humbel
2022-06-26 01:28:10
2022-06-26 02:09:28
Is it Too Late For a Career Change? 10 Essential Questions to Ask Yourself First