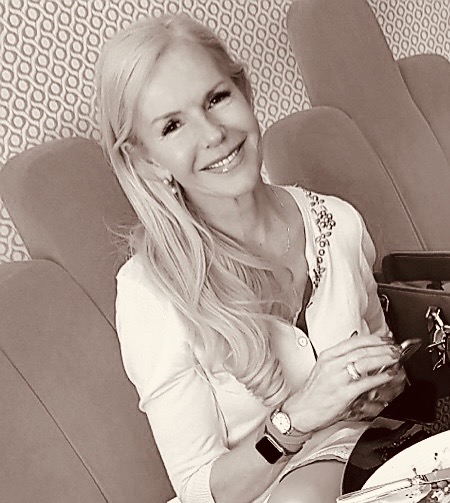 Valery Guyot-Sionnest
Valery Guyot-Sionnest had a successful and envied career in the world of luxury, from cosmetics to fashion to hospitality, as a Communications Director for leading groups such as Estée Lauder and Barrière. Today, she reinvents an industry that is as muted as it is essential, the last farewell to loved ones. Meet a remarkable person who embraced a bold change of career and made it her mission to be a precious ally to families when they need it most.
Why such a bold change of career?
I was born an organizer, this is what I do. I've taken care of all of life's events, now I'm taking care of the last one. The decision was both linear and mission-driven. I have been a Communications Director most of my adult life. It's a job that already existed. As a Funeral Planner, I am breaking new ground. I feel like a warrior and a missionary. This profession is known in the USA and in the Northern Europe countries, whereas it is quite new in France.
What motivated you?
First, I believe that a 50+ years old Director of Communication is irrelevant. Secondly, the human factor has guided me all my life. The last tribute to a person is fundamental. It is a one-time event. There is no possible rehearsal.
I embraced this new change of career with a sense of mission combined with business ambition. I had this idea for a long time. What makes one farewell ceremony different from another? People. Every human being is unique. Every last tribute has to be unique as well.
Most of us are afraid of death. In the Western world, when we lose someone, it is a disaster. I am aware that I am touching on a real taboo. During the pandemic, families could not attend funerals. I, therefore, organized video recordings of funeral ceremonies. It is a very delicate work, which requires two professional cameramen for a high-quality rendering. We have to respond to all situations and sometimes to very specific requests.
Faced with an inanimate being, empathy comes first, a deep concern for the person. It's also a race against time. My job is to think quickly and take flawless action on very short notice. A wedding planner has six months to prepare. I have three days.
I take care of families of various faiths, sometimes multi-religions. I quickly understand the situation. I work without a safety net. At my age, it suits me well!
How did your change of career go?
I took 240 hours of training on topics including legal, religion, civil ceremonies, police, and cemetery regulations.
While I was taking the course, I kept running my communication agency. There were intense moments. One day I was in charge of a Muslim funeral. The same evening, I was organizing a lingerie catwalk show. It was challenging. In the funeral business, you have to be very flexible. I went looking for the right energy.
My goal was to be acknowledged by the profession. I started by setting up a company with partners, but it did not work, so I had to change the structure of my business. Today, I am backed by Funecap, the 2nd largest funeral group in France. I will continue to develop my partnership with the group, and expand my reach in Europe.
I have an exciting project, to develop a Funeral Planner module within the training academy, to share the concepts and the best practices with a new generation.
I am making a film about the construction of a chapel ordered by a family, in tribute to a loved one. Eighty professionals, representing seven different trades are at work. Again, the human factor is at the heart of this project and I am very proud to contribute.
I also work on more accessible concepts. Many people ask me for a "simple" ceremony. But this notion means something different for everyone. All lives are unique and deserve to be celebrated.
What did you learn about yourself?
I continue to learn from each family. These encounters give me 250% more life energy.
It's a wonder. Living in service to others gives me a purpose. Should I have done it before? I don't think so.
I'm not interested in retirement. My partner and I have raised eight children (four each). My professional life is humanly rich, infinite, and magnificent, even though the emotional load is sometimes heavy.
This career change did not change me. It improved me. I experienced my mother's death with serenity and peace of mind. I am closer to my truth.
In my work, I am very attentive to the well-being of families. I am particularly attuned to children. I find solutions that are both creative and technical. I care for them. This goes through simple things: Did you sleep? Did you eat? I try to restore a daily routine for people who feel lost.
Your advice to those who want to embrace a second act?
When you get close to retirement age, you realize that you still have a lot to do. You have to go for it, and at the same time, adopt the strategy of taking small steps. During a change of career, you need perspective, empathy, and a business mind. In the beginning, I launched myself into a partnership which proved to be a bad experience. It didn't stop me. I moved on quickly. I have a great energy that pushes me forward.
https://alexandrahumbel.com/wp-content/uploads/2022/04/valery-guyot-sionnest.jpg
503
450
Alexandra Humbel
https://alexandrahumbel.com/wp-content/uploads/2021/04/alexandra-humbel-logo.png
Alexandra Humbel
2022-04-14 04:25:30
2022-04-14 04:58:11
A Bold Change of Career: On a Mission to Celebrate All of Life's Events