Classically Neat at Ralph Lauren, from soldier to leader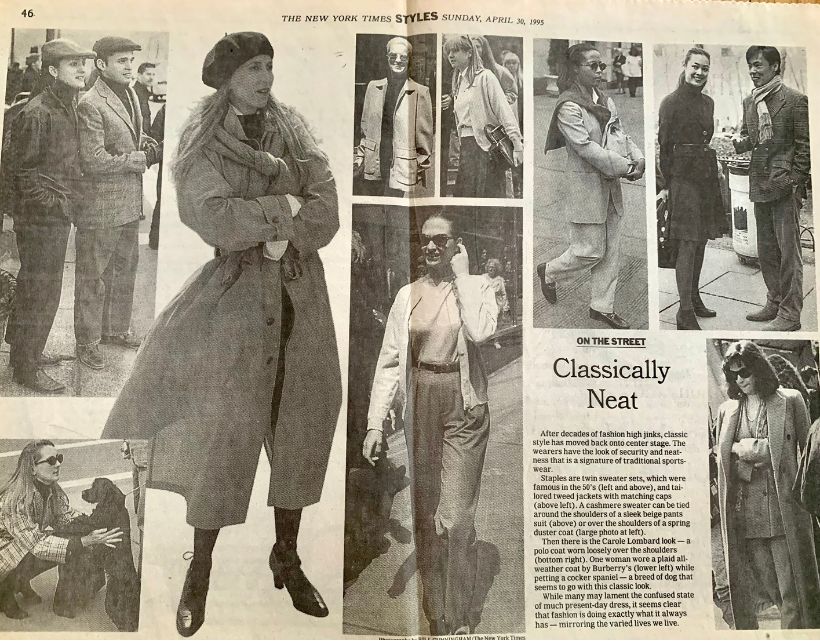 In this picture, it's me with my arms crossed, wearing a beret, unknowingly photographed at the exit of the fall-winter 1995 Ralph Lauren fashion show in Bryant Park, New York.
The day after I was flying back to Paris. You can imagine my surprise when my colleagues called me and said "your picture is prominently displayed in today's fashion section of the New York Times!"
The irony that escaped me at the time and strikes me now is the title of the article. "Classically neat" is an incredibly accurate description of who I was.  
Here is the story. Powerful fashion brands are largely defined by their image. The image is carefully and skillfully coded, like an entire language of its own. The positive impact of the brand is conditioned by the consistency of its message at all points of contact, public and corporate. Product, advertising, internal and external communication, media, editorial, retail, events, packaging, brochures, and all the marketing material must tell the same aligned and compelling story. Beyond the obvious, the brand codes apply to the team members. As such, we dressed, spoke, and acted "Ralph Lauren". We breathed "Ralph Lauren". We did it willingly because the designer had created, beyond the product, a whole world of cool elegance, which was reflected in the company's culture. Frankly, it was a nice place to be. 
Being a good soldier, and loving it
There is abundant literature about leadership and every professional is urged to be one. There is absolutely nothing wrong with finding the leader in yourself. If it pushes you to grow and develop new skills, I'm in. I just want to point out how useful it can be to just be a good soldier, especially when you find yourself in an environment where there are massive opportunities to learn. That was the case for me at the time of this photo. I was absorbing knowledge like a sponge. As a PR Officer, I was exposed to a million different people, requests, and tasks every day. I was never rebuked. I was a soldier on duty. Was I demonstrating leadership? Probably not. I was efficient and accountable like a bee. I was on a learning curve. I intended to learn fast and expertly master the job. Period.
My strategy paid out. After 3 years of being the "Busy Bee" of the PR department, a position opened to take the lead of PR for Ralph Lauren Home Collection. There was an entrepreneurial dimension in this job. It was a small team mainly based in the US, so every member had to be immediately operational and relatively autonomous. My knowledge of the company's image, codes, and culture was an asset that served me well. 
"What got you here won't get you there"
A couple of years passed. I loved my job, and continued honing my skills with more leeway and ownership. But I could tell something was changing. New collaborators were hired from other fashion and luxury companies, coming up with fresh ideas on how to promote the brand at a higher level. As I heard them proposing new ways of doing things, I felt both defensive (this is not the way we do things here!) and drawn in (hey, why not? It sounds like a really good idea!). Clearly, I was on the wrong side of innovation, having spent the last years implementing the codes, not questioning them. Wherever I turned, I could only see that my set of references was certainly valuable but limited to a unique perspective. It was time to get out of the proverbial comfort zone and move on. As Marshall Goldsmith brilliantly explained in "What got you here won't get you there"*, there is a time to question some working habits which served you well to get to a certain point, and start considering which new set of skills will take you to the next level. Some companies send promising executives to leadership training or give them coaching services, which is a wise investment. However, most companies won't, so it is your call to figure it out and take that leap. 
*What got you here won't get you there by Marshall Goldsmith  
The First Step To Designing a Life You Love is Clarity
Claim your personal discovery call with Alexandra to get clear on what exactly is holding you back from transitioning into the career of your dreams and how to get 'unstuck'.
https://alexandrahumbel.com/wp-content/uploads/2023/03/NY-Time-April-95-1.jpg
641
820
Alexandra Humbel
https://alexandrahumbel.com/wp-content/uploads/2021/04/alexandra-humbel-logo.png
Alexandra Humbel
2023-03-01 00:57:35
2023-03-01 01:44:02
Classically Neat at Ralph Lauren, from soldier to leader